Archive for the 'PCB Clone' Category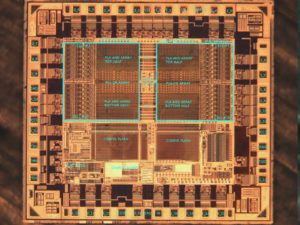 Recover MCU PIC16HV540 Binary
We can Recover MCU PIC16HV540 Binary, please view the MCU PIC16HV540 features for your reference:
High-Performance RISC CPU:
· Only 33 single word instructions to learn
· All instructions are single cycle (200 ns) except for program branches which are two-cycle
· Operating speed: DC – 20 MHz clock input DC – 200 ns instruction cycle
· 12-bit wide instructions
· 8-bit wide data path
· Seven special function hardware registers
· Four-level deep hardware stack
· Direct, indirect and relative addressing modes for data and instructions
Peripheral Features:
· 8-bit real time clock/counter (TMR0) with 8-bit programmable prescaler if Recover MCU
· Power-On Reset (POR)
· Brown-Out Protection
· Device Reset Timer (DRT) with short RC oscillator start-up time
· Programmable Watchdog Timer (WDT) with its own on-chip RC oscillator for reliable operation
· Sleep Timer
· 8 High Voltage I/O
· 4 Regulated I/O
· Wake up from SLEEP on-pin change
· Programmable code protection
· Power saving SLEEP mode
· Selectable oscillator options:
– RC:   Low-cost RC oscillator
– XT:   Standard crystal/resonator
– HS:   High speed crystal/resonator
– LP:   Power saving, low frequency crystal
· Glitch filtering on MCLR and pin change inputs
CMOS Technology:
· Selectable on-chip 3V/5V Regulator
· Low-power, high-speed CMOS EPROM technology
· Fully static design
· Wide-operating voltage range:
– 3.5V to 15V
· Temperature range:
– Commercial: 0°C to 70°C
– Industrial: -40°C to 85°C
· Low-power consumption
– < 2 mA typical @ 5V, 4 MHz
– 15 µA typical @ 3V, 32 kHz
– < 4.5 µA typical standby current @ 15V (with WDT disabled), 0°C to 70°C
The PIC16HV540 from Microchip Technology is a low- cost, high-performance, 8-bit, fully-static, EPROM- based CMOS microcontroller. It is pin and software compatible with the PIC16C5X family of devices. It employs a RISC architecture with only 33 single word single cycle instructions. All instructions are single cycle except for program branches, which take two cycles. The PIC16HV540 delivers performance an order of magnitude higher than its competitors in the same price category after Recover MCU.
The 12-bit wide instructions are highly orthogonal resulting in 2:1 code compression over other 8-bit microcontrollers in its class. The easy-to-use and easy-to-remember instruction set reduces development time significantly if Recover MCU.
The PIC16HV540 is the first One-Time-Programmable (OTP) microcontroller with an on-chip 3 volt and 5 volt regulator. This eliminates the need for an external regulator in many applications powered from 9 Volt or 12 Volt batteries or unregulated 6 volt, 9 volt or 12 volt mains adapters.
The PIC16HV540 is ideally suited for applications that require very low standby current at high voltages. These typically require expensive low current regulators.
Revenues for Micron's first quarter of fiscal 2014 were USD 4.04 billion and were 42% higher compared to the fourth quarter of fiscal 2013 and 120 percent higher compared to the first quarter of fiscal 2013.
GAAP Income and Per Share Data – On a GAAP(1) basis, net income attributable to Micron shareholders was USD 358 million, or USD 0.30 per diluted share, compared to net income of USD 1.71 billion, or USD 1.51 per diluted share, in the fourth quarter of fiscal 2013 and a net loss of (USD 275) million, or (USD 0.27) per diluted share, in the first quarter of fiscal 2013.
Net income was USD 881 million, compared to net income of USD 317 million, in the fourth quarter of fiscal 2013.
Revenues from sales of DRAM products were 69 percent higher in the first quarter of fiscal 2014 compared to the fourth quarter of fiscal 2013 due primarily to an increase in sales volume resulting from the acquisition of Elpida.
Revenues from sales of NAND Flash products were 8 percent higher in the first quarter of fiscal 2014 compared to the fourth quarter of fiscal 2013 primarily due to an 11 percent increase in sales volume offset by a slight decrease in average selling prices.
The company's consolidated gross margin improved to 32 percent in the first quarter of fiscal 2014 compared to 25 percent in the fourth quarter of fiscal 2013 primarily due to an increase in volume of products resulting from the acquisition of Elpida and to product mix.
Cash flows from operations for the first quarter of fiscal 2014 were USD 1.51 billion, while investments in capital expenditures were USD 669 million. The company ended the first fiscal quarter with cash and marketable investments of USD 4.41 billion.
Read more: http://evertiq.com/design/33563
Component distributor, Advanced MP, has opened a new automated logistics center which has been successfully integrated into their global operation.
Thenew logistics center in San Clemente, California. The newly constructed 60,000 square foot logistics center provides more resources and storage space for inventory management services, and houses a quality control testing facility, with the addition of De-CAP, XRF and granite slab testing equipment, to their already existing in house QC testing equipment.
"The completion of this new logistics center is a great accomplishment for AMPT, and resource for our customers worldwide. In conjunction with the additional stocking space this new warehouse provides, the inclusion of the new quality testing equipment will optimize the turnaround time between receiving to shipment," said Global Logistics Director, Mike England. "In addition to providing a quicker response to our customers special needs, bringing these testing amenities in house allows Advanced MP to improve cost for customers as well."
Read more: http://evertiq.com/design/33541
Mouser Electronics, Inc. has outstripped the general distribution market in Europe, and expects to achieve year-on-year revenue growth figures of above 30% for 2013.
During Q4 -2013, the company is enjoying its best ever European quarter performance and September, October and November were all-time record months.
Future aggressive growth plans mean that Mouser is poised for further significant European growth in 2014. Explains European Marketing Director, Graham Maggs: "Here in Europe we are well ahead of our revenue targets and have grown our customer base by over 30% with new business coming from every industry sector. Semiconductors now represent over 40% of our sales, and, importantly, we have seen an 11% increase in the sales of parts that were introduced by the manufacturer in the last 12 months (NPI sales). These facts lead to the conclusion that we are now accepted as the design-fulfillment distributor of choice and go–to place for Newest Components."
In order to service this increased business, Mouser plans to expand its resources at its European headquarters in Munich with the addition of more people who will concentrate on delivering focused technical content. Continues Maggs: "We must deliver the right information for design engineers, providing solutions-based material. That means that we must understand the customer's business, and supply him not only with relevant applications and product information, but also provide details of the design ecosystem – to include software development system, development kits etc – as well as the myriad of other supporting power, inductive, passive and e/mech components that will complete his specific design."
Read more: http://evertiq.com/design/33530
Samsung Electronics and Rambus has signed a 10-year license agreement. The agreement extends the existing relationship between the companies, providing Samsung with access to Rambus' technologies for inclusion in Samsung ICs.
The agreement requires quarterly royalty payments to Rambus of USD 15 million per quarter for the first five years, with an initial payment of USD 22 million for the fourth quarter of 2013. Payments in the second five-year period are variable and subject to market-related factors. The agreement further provides Samsung access to Rambus' security technologies in system devices such as smart phones, tablets, and set-top boxes. The agreement is set to terminate in 2023. Other terms and details are confidential.
"This new 10-year agreement symbolizes our ability to add value to Samsung through our core memory and security technologies," said Dr. Ron Black, president and chief executive officer at Rambus. "Extending this relationship for a longer term gives us the ability to work with the broader industry on a variety of exciting technology initiatives."
Read more: http://evertiq.com/design/33520
ABI Research's Enterprise Smartphone vendor matrix concluded that, overall, Samsung is number one followed closely by Apple, with BlackBerry rounding out the top three.
The vendor matrix ranks companies based on scoring in Implementation and Innovation categories. Nine smartphone OEMs were compared on eighteen criteria including workspace management solutions, partnerships and business customer adoption. Samsung's large and diversified partner network coupled with it being the first Android OEM to offer an integrated enterprise solution pushed the company to the number one spot.
The vendor matrix score separating Samsung and Apple was less than a single point. Apple received extremely high marks in Implementation due to high iOS smartphone adoption by business users and because its smartphones are the most activated device within EMM/MDM platforms. Samsung, on the other hand, was ranked as more Innovative with a wider range of enterprise devices and better security features. Samsung's higher Innovation scores lead to its number one ranking.
The third place ranking for BlackBerry was driven by lower Implementation scores, yet it still received high scores in Innovation. The company faces shrinking smartphone market share in an intense competitive environment. Even so, BlackBerry is still considered the gold standard in enterprise security supported by recent BES enhancements for multi-OS and dual-persona device management.
"There are two sets of OEM battles that need to be watched closely: Apple and Samsung and Nokia and BlackBerry," comments senior analyst, Jason McNicol. "Apple and Samsung are quite interesting considering Apple's smartphone innovations drove its lead in the enterprise over Samsung. But Samsung has learned quickly and has stolen the innovator role from Apple."
McNicol continues, "BlackBerry and Nokia are battling for the number three spot in the enterprise mobility market. BlackBerry has more enterprise mobility experience; however, Nokia now has the backing of Microsoft. Couple these advantages with the recent struggles by Apple and Samsung means that opportunity exists for BlackBerry and Nokia to gain market share and subsequently improve their ranking."
Practice Director Dan Shey adds, "With the maturing of the smartphone market, we expect OEMs to increasingly broaden their enterprise offerings. The result is that the rankings earned by Samsung, Apple, and BlackBerry will both shift and be challenged as enterprise becomes more reliant on mobile devices, apps, and services."
Read more: http://evertiq.com/news/33513
Tessera Technologies has appointed Robert J. Andersen as the Company's executive vice president and chief financial officer (CFO).
Andersen will report to CEO Thomas Lacey and be responsible for the Company's finance, accounting, strategic planning, investor relations and IT. John Allen, who had served as the Company's acting CFO since June 2013, returned to his prior position as the Company's senior vice president and corporate controller.
"Robert has a long successful track record in a number of public and private technology companies," stated Lacey. "I have worked with Robert previously and know firsthand that his financial leadership, business acumen and team-building skills will be instrumental to the successful execution of our long-term strategy, which will drive value for our customers, partners, employees and stockholders. I also want to thank John Allen for his significant contributions during his tenure as acting CFO and I very much look forward to his on-going contributions to help lead the company forward."
"I am excited to join Tessera, which is an innovative company at a crucial point in its growth strategy," stated Andersen. "I look forward to working on the significant opportunities that lie ahead for the Company."
Andersen most recently served from June 2011 to July 2013 as the CFO and executive vice president of G2 Holdings Corp. d/b/a Components Direct, a privately held provider of cloud-based product life cycle solutions, which was acquired by Avnet, Inc. in April 2013.
Read more: http://evertiq.com/design/33514
The October sales figures reported by German PCB manufacturers increased 4% sequentially and 2% YoY.
YTD, sales were 0.2 percent higher than those reported for the same period 2012, writes the German industry association ZVEI PCB and Electronic Systems.
Medium-size companies reported on somewhat lower figures that large-size and small-sized companies.
The order intake in October 2013 surpassed – YoY – that of September 2012 by one percent. YTD, order intake was three percent higher than that reported for the corresponding period in 2012. September 2013 was an exceptionally good month and order intake decreased 18% sequentially.
Read more: http://evertiq.com/news/33495
When Apple announced the iPhone 5s in September 2013, much of the popular press hailed the device's inclusion of fingerprint sensing (dubbed Touch ID) as a major breakthrough in mobile security.
The more astute journalists pointed out that Motorola had brought to market fingerprint scanning in the Atrix 4G handset back in February 2011, more than two and a half years earlier. As an owner of the Atrix 4G since its early days, I can provide some insight into the real-world ups and downs of using a fingerprint scanner on a daily basis, although the proliferation of fingerprint devices presents greater security concerns.
In terms of usability, the fingerprint method clearly surpasses PIN or password or pattern input as a way to unlock a mobile handset, particularly when it's a function that gets executed dozens of times a day. It's one of the reasons that I have hung on to the Atrix 4G as one of my phones for this long.
A couple of scenarios confound the Atrix 4G's fingerprint recognition. One is short term changes in fingertip skin, such as from recently wet hands that distort the skin (an extreme example being "prune finger" from shower or bath) or otherwise cause moisture-related problems for the capacitive finger sensor. (In this type of sensor, the fingerprint image is generated by electrical rather than optical differences between ridges and troughs.)
Another problem appears to be seasonal, in that skin condition varies enough from summer to winter here in New England that I have to recalibrate the handset with a fresh set of print samples a couple of times a year. A device with more sophisticated pattern recognition algorithms and more powerful processing might be able to account for such variability, and perhaps the iPhone 5s is better than the Atrix 4G in that regard.
No doubt law enforcement uses more elaborate techniques for matching prints, but as a consumer device, the Atrix 4G does remarkably well, correctly recognizing my print more than 95 percent of the time on the first swipe (i.e. fewer than 5 percent false negatives). The likelihood of false positives, that is someone else's finger successfully unlocking the phone, is effectively zero.
Sure, a determined attacker could poach a fingerprint from somewhere else and dupe it onto the sensor, as was widely publicized when a group of hackers successfully accessed an iPhone 5s that way only a few days after the product's release. However, the odds of that actually happening to a phone in the wild are slim, as long as the handset maker doesn't build the housing out of a glossy plastic that's a fingerprint magnet. The odds are probably higher that an attacker would pick up a user's PIN or password just by watching over the shoulder.
A much greater risk would be if hackers managed to distribute malware via an innocent looking app that uploads fingerprint data to a central server where it could be used for other nefarious purposes. Even if the fingerprint images stored on the handset (Data At Rest) are adequately encrypted, a smart enough attacker with the right level of access might be able to capture the raw data from the sensor as the finger is scanned (Data In Motion). Embedded devices of any kind that include fingerprint recognition need to be designed from the start to prevent such access. (Companies such as AuthenTec offer on-sensor encryption.) In addition to critical infrastructure like energy grid and transportation management, fingerprint sensors increasingly will appear in multi-factor authentication for broader embedded applications for financial transactions, building access, medical records, biotech laboratories, home security, and a range of consumer electronics products.
Theft of one person's fingerprint would be an immense hassle for that individual but not a societal threat. A method of surreptitiously capturing prints from thousands or even millions of consumers could present a massive security nightmare, especially since those prints later could be employed on other devices for which a user has fingerprint access. All it would take to expose such a risk would be one consumer electronics manufacturer that shortcuts the design of one popular product to save a little on development time or BOM cost.
Users don't have the option of resetting their compromised fingerprints as they do their passwords, and they don't have the option of using different fingerprints to access different systems, at least not beyond the limit of two hands' worth. Ironically, fingerprints may become less secure in the long run than other forms of authentication. In the meantime, I'm hanging onto my phone.
—–
Read more: http://evertiq.com/design/33464
With the explosion in mobile data traffic, operators struggle to provide the data services that their customers desire.
ABI Research forecasts that mobile monitoring and optimization equipment revenue will increase to over $9 billion by 2018 and operators can remain competitive by continuously providing their customers with high performance data services even with congested networks.
Research analyst, Sabir Rafiq comments, "Mobile operators are feeling the squeeze on data capacity, and with solutions such as Self-Optimizing Networks (SON) and Wi-Fi offloading they can assure that their customers receive the best possible service at all times."
Optimizing across heterogeneous networks, which are multi-technology and multi-environment networks, also plays a vital role. As many people utilize different devices for their daily data usage, optimizing across technologies such as 3G / 4G / macrocell / HetNets / Wi-Fi is required to profitably deliver an optimum service.
Rafiq continues, "The coordination between the macro cells and small cells is vital to deliver optimum performance of the radio network and provide a meaningful end customer experience."
ABI Research sees that the leading mobile network infrastructure vendors, Ericsson, Alcatel-Lucent, Huawei, and NSN all provide SON and Heterogeneous Network solutions. NSN has an edge over its competitors with its intelligent SON automation and early field deployments across 3G and 4G. The solution helps operators to monitor the deployment, process alignment strategies, and implement new network elements.
Read more: http://evertiq.com/design/33462